Overview
PUE HX7
terminal is a constructional component of industrial multifunctional load cell scales, equipped with either one or numerous load cells. It is based on the latest solutions and an advanced computing platform. Versatile terminal's software will satisfy even the most demanding users and system integrators. The basic version of the terminal features a vast range of communication interfaces, which range can additionally be expanded.
Housing
The housing, made of AISI 304 stainless steel, ensures high ingress protection, IP66 / IP68. The terminal is equipped with 7" colour LCD display and membrane keyboard. Ease of operation, clear menu and intuitive information arrangement on the display guarantee comfort of operation. Hermetic communication interface connectors are located on the back side of the housing. Stable mount bracket enables to mount the terminal either on a flat horizontal surface or on the wall. The device tilt can be easily adjusted.

Weighing Platform Operation
Basic version of the terminal supports 1 analog weighing platform. The possibility to install an additional weighing module enables to support 2 weighing platforms.

Diodes
Diode bar graph is located on the top of the operation panel and consists of 9 red and green diode fields. The terminal features 3 working modes: 'linear', 'weighing thresholds signalling' and 'checkweighing'. The bar graph significantly increases the comfort of operation during piecework in food industry when fast and unambiguous presentation of product mass deviation against the declared min and max values is crucial.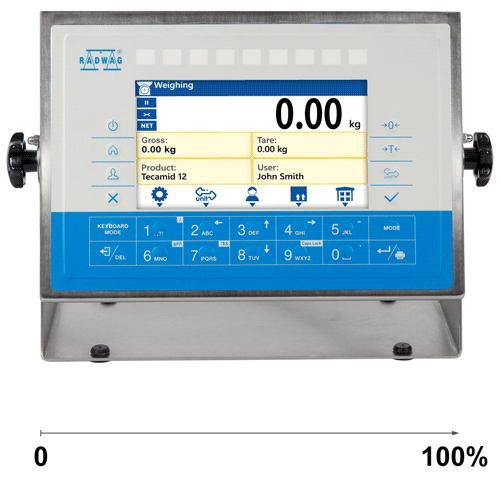 Multifunctional Software
Terminal software facilitates processes such as weighing, parts counting, dosing, labelling, formulations and percent weighing. Terminal's information system is based on databases (such as: users, products, weighings, packaging, formulations, customers) and ALIBI memory which guarantees stored data safety.
When developing the software, special attention was given to the functionality and ergonomics. This resulted in increased comfort of terminal operation.
Battery as an Optional Power Source
Use of the optional battery enables the PUE HX7 terminal to operate even when there is either no or unstable power supply. This improves the security of acquired data and improves comfort of operation.

Communication Interfaces
The terminal is equipped with RS 322, RS 485, USB, Ethernet, digital inputs/outputs and analog output. This enables connection with external devices such as barcode scanners, printers, external displays, control buttons, light signalling towers, other controlling/signalling devices, systems for automatic process control and superior IT systems. The connection is possible due to the implemented and complex character-based communication protocol. In the future, the interfaces will be extended with Profibus and Profinet. Additionally, Modbus RTU and TCP protocols will be implemented.
Datasheet
Protection class
IP 66 / IP 68
USB Interface
1× standard, 1× option (M12 4P)
ETHERNET Interface
1× standard
EtherNet/IP Interface
1 × option (RJ45)
Profinet Interface
1 × option (RJ45)
RS232 Interface
1× standard, 2× option
IN/OUT Interface
4 IN 4 OUT standard, 12 IN 12 OUT option
Modbus RTU module
1× standard
Profibus module (option)
DP SLAVE
Analog output module (option)
4-20mA, 0-10V
Power consumption max.
25 W
Optional power supply
internal rechargeable battery
Operation time on batteries
max 7h
Maximum quantity of verification units
6000 *
Minimum volatge per verification unit
0,4 µV
Maximum voltage per verification unit
3,25 µV
Minimum load cell impedance
50 Ω
Maximum load cell impedance
1200 Ω
Load cell excitation voltage
5V DC
Maximum increase of signal
19,5 mV
Connection of load cells
4 or 6 wires + shield
Operating temperature
-10 ÷ +40 °C
Storage temperature
-10 ÷ +50 °C
Relative humidity
10% ÷ 80% RH no condensation
Material
stainless steel AISI304
Device dimensions
340×231×120 mm
Packaging dimensions
370×310×220 mm
Max number of platforms
max 2 (1× standard + 1× option)